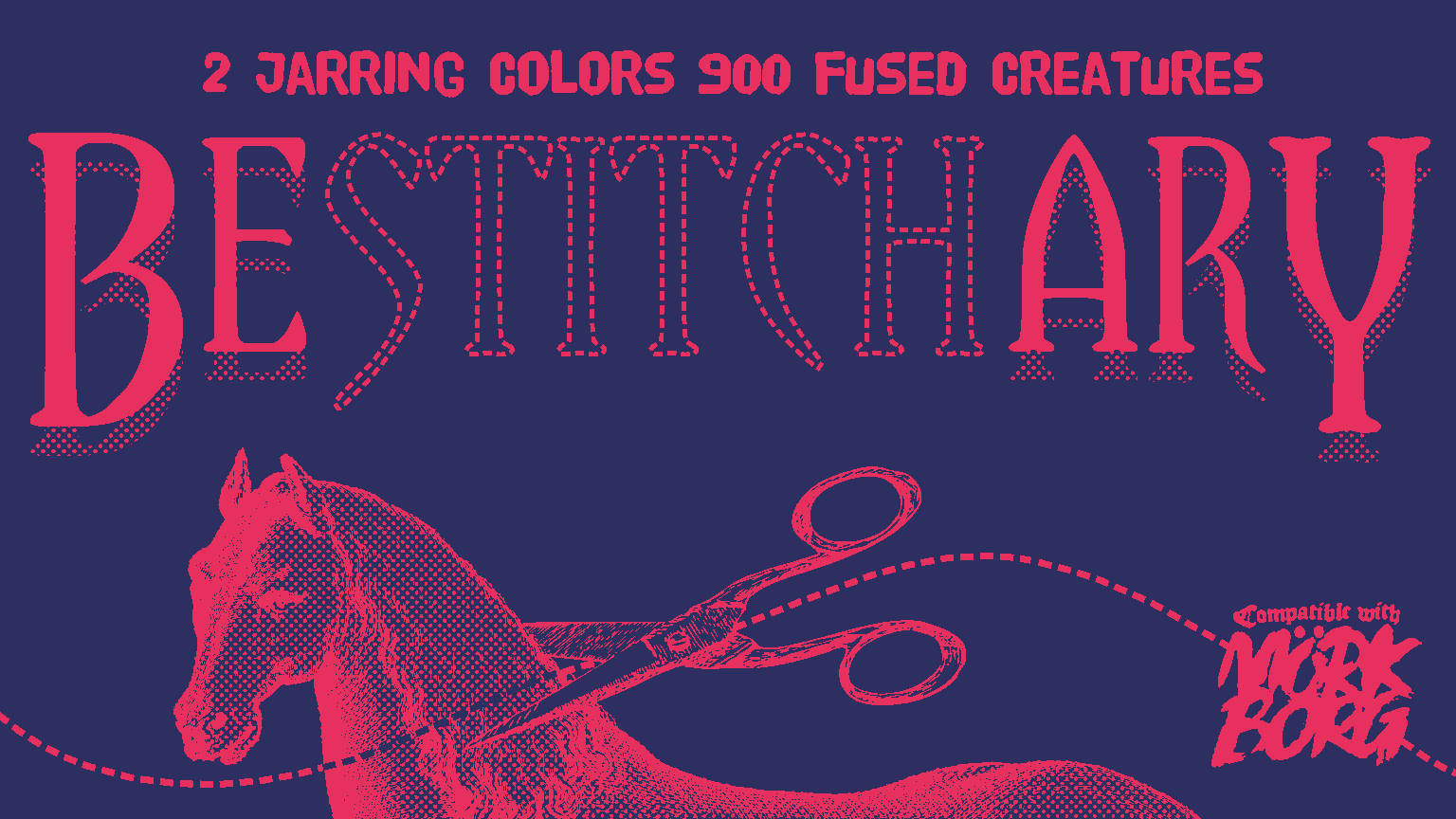 BEstitchARY
A downloadable bestiary supplement

Strange creatures are roaming the land! You have seen plenty, but those things are something else entirely. The chimeric amalgams and abominable hybrids from origins unknown are wreaking havoc and terrorizing the area. No end in sight to their squalid reign.
BEstitchARY is a third-party bestiary zine slash supplement for MÖRK BORG, which lets you generate creatures by... stitching them together.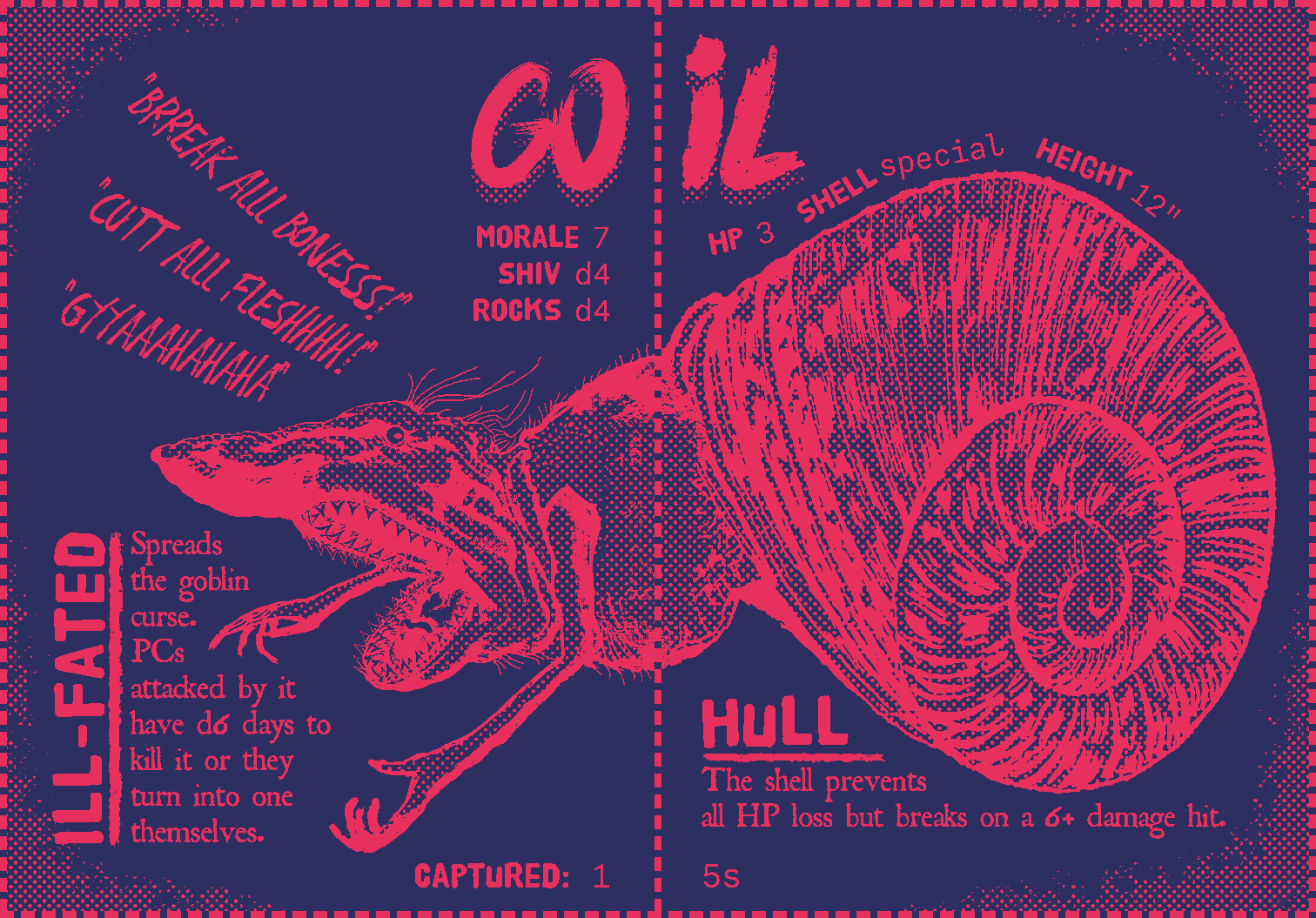 ---

This 23 pages long A5 PDF zine contains:
D20 reasons for strange creatures to appear
60 unique creature parts (fronts and backs) allowing for 900 permutations!
Two simple ways to generate the creatures
Some additional optional rules to spice things up
An empty template to create creature parts of your own

All the creature parts include:
An illustration that seamlessly fits other parts
Part of the name
MÖRK BORG compatible stats: HP, morale, weapons, and armor
A unique special ability
Size of the creature and the sounds it makes
Some creatures carry loot or have valuable hunting trophies
Price for a captured specimen
---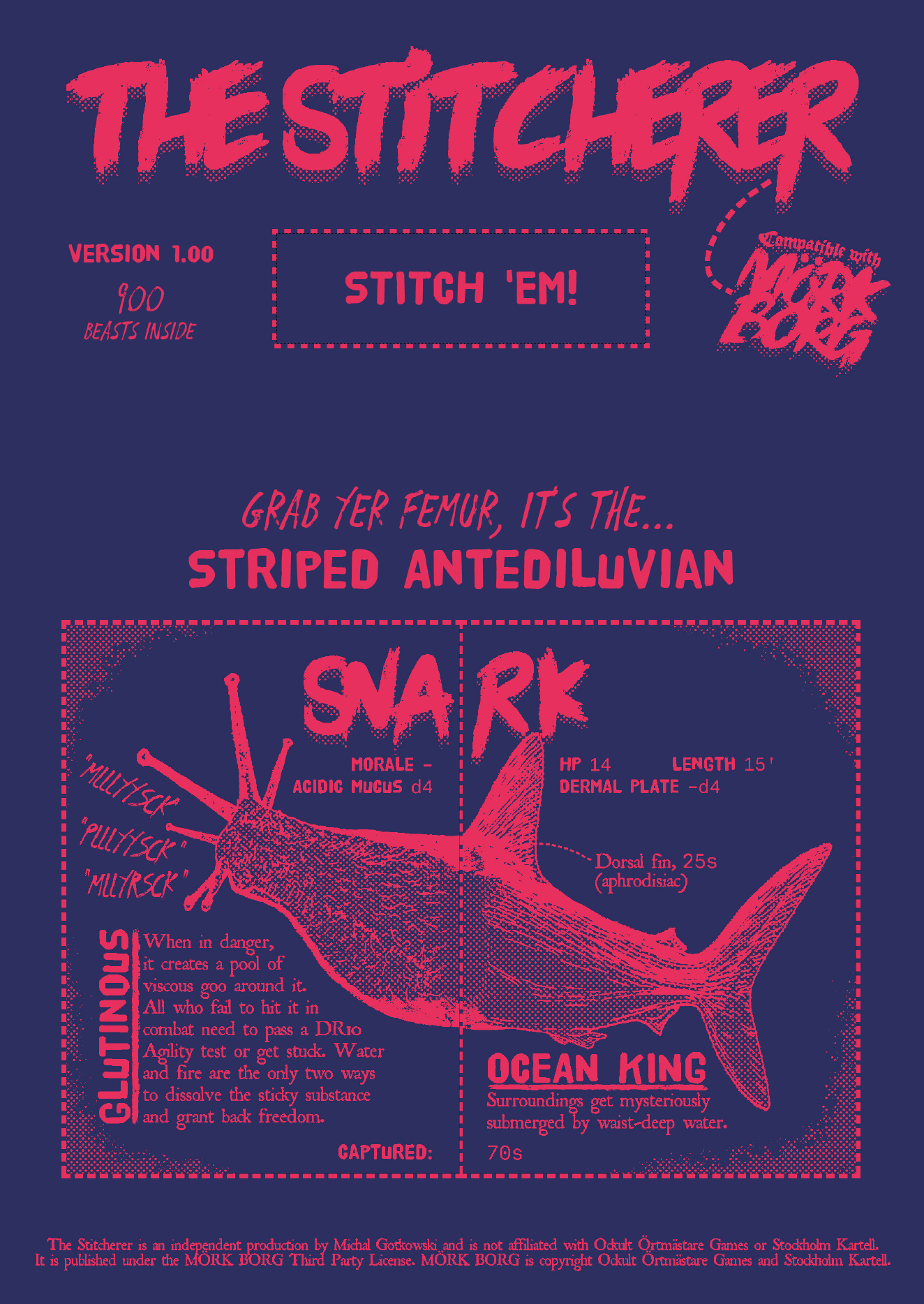 We all live in apocalyptic times now and it might take a while before we can meet in person again, print some weird creatures, and have some good o' hacking and slashing. Many of us have no other option than to play online and I wanted to address that as well, so I came up with The Stitcherer.

The Stitcherer is a one-page PDF file which lets you automatically generate the BEstitchARY creatures by using the Adobe Reader's javascript and layer capbilities. It's as simple as pressing a button, but don't trust my words...
!!! Compatibility !!!
The Stitcherer is only supported by the desktop version of Adobe Reader both on Mac and PC. However, you won't be able to run it on the Adobe Reader browser or mobile applications. I tried many mobile applications but none of them supported the capabilities needed for it to work.
---

If you are truly blessed to own a printer, this guide is for you!
Print it as a zine!
To print it as a zine that you can easily flip through and let it collect dust on your shelf, I recommend to use BEstitchARY (A5) BW.pdf file, open it through Adobe Reader, and set the print settings to the below:
Page Sizing & Handling: Booklet
Booklet subset: Both sides
Binding: Left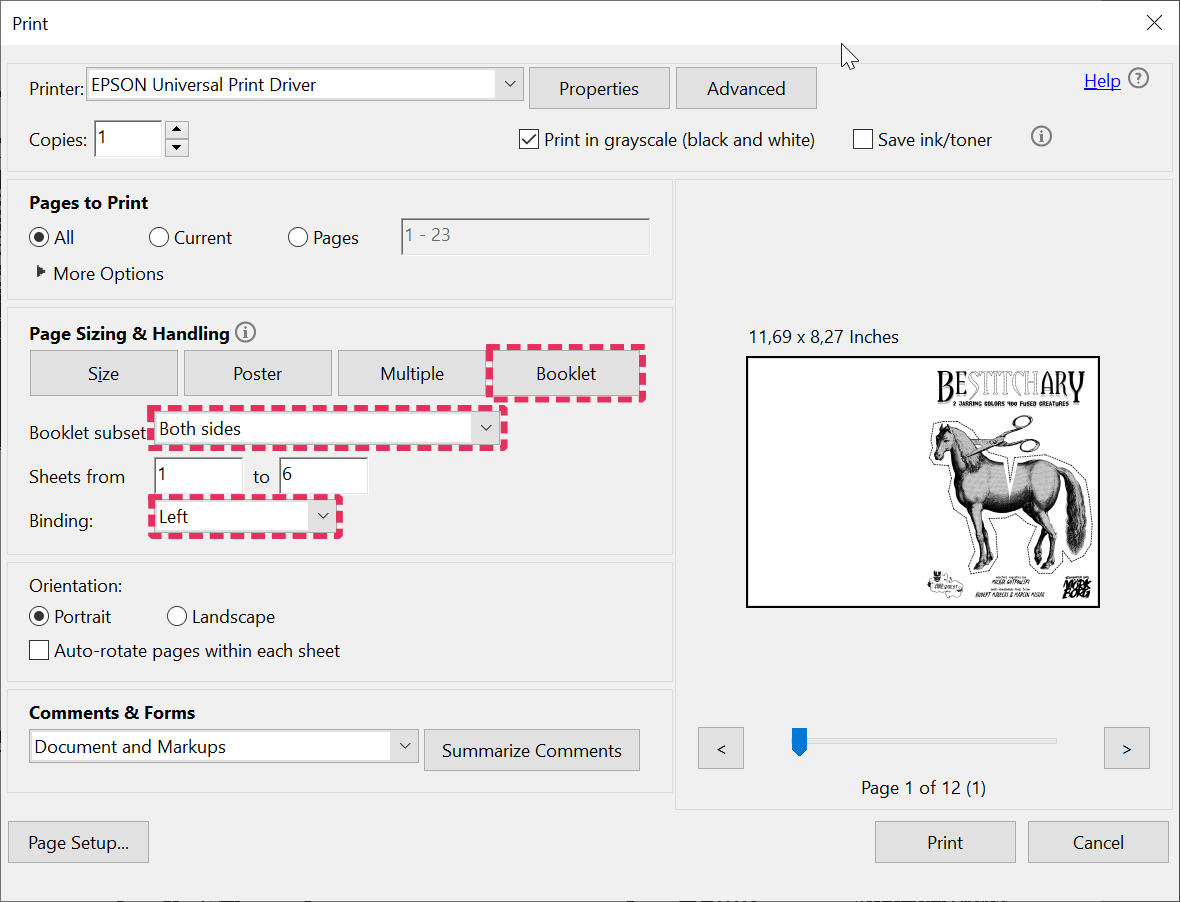 The end result will be an A5 format zine with pages printed on both sides of the paper.


Print it as cards!
All the creature body parts within this zine are essentially cards one can print and use to generate some really unsettling abominations. If you have printed it as a zine however, you might notice that the cards don't really have any card backs - just the fronts on each side of the page. To print it as one-sided cards, I recommend to use BEstitchARY (A4) BW.pdf file, open ith through Adobe Reader, and set the print settings to the below:
Page Sizing & Handling: Size
Custom Scale: 100%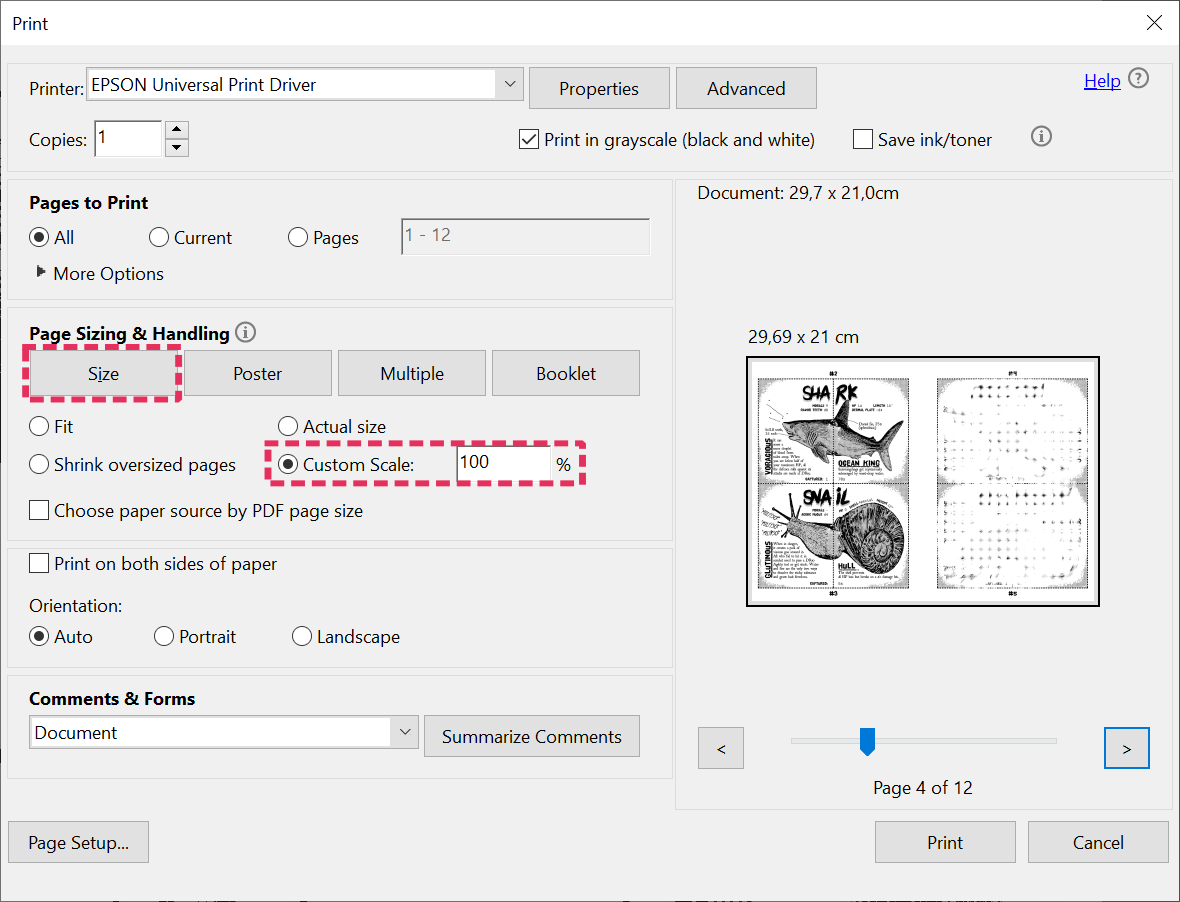 The end result will be a set of one-sided A4 pages, each containing up to 4 full creatures or 8 creature body part cards. Each card should have the dimensions of a regular TCG type card: 63 × 88 mm (2.5 by 3.5 inches). For protection you can then either laminate the cards or use regular TCG card sleeves.
---

Who doesn't? Grab yer femur and enter the below web realms:
MÖRK BORG - The dark mothership of a website. Proceed with caution, bring silver.
Ex Libris Mörk Borg – Līber Lūdōrum - A mad scribe's collection of all things Mörk Borg. The best resource for third party content out there. Sacrifices can be made here.
the trve Mörk Borg - The cvlt hideout disguised as a discord channel. Be sure to say hi and never leave.
---
BEstitchARY and The Stitcherer are an independent production by Michal Gotkowski and are not affiliated with Ockult Örtmästare Games or Stockholm Kartell. They are published under the MÖRK BORG Third Party License.
MÖRK BORG is copyright Ockult Örtmästare Games and Stockholm Kartell.
Purchase
In order to download this bestiary supplement you must purchase it at or above the minimum price of 6.00€ EUR. You will get access to the following files:
BEstitchARY (A5).pdf
36 MB
BEstitchARY Color PDF Bundle.zip
67 MB
BEstitchARY BW PDF Bundle.zip
42 MB
Comments
Log in with itch.io to leave a comment.
Hi! Paypal only? Can u add payment via credit card?
It worked, and now it doesn't, I mean automagically on Adobe Reader on Macos..
It only works on the desktop version of Acrobat (PC & Mac). It won't work in a browser, mobile, tablet, etc - those version of the application do not support either scripts or layers which BEstitchARY uses. Let me know if you are still facing any issues and I'll see how can I help.
Help I'm an American and I want to buy this but the price is in euros and I can't do anything! Is there anywhere I could buy this with my money? (I can't use Pay Pal)
This thing is amazing!! Endless fun...
Thanks a lot! Any favourites so far?
The Squil was the first result of clicking on The Sticherer and it is amazing! I grabbed pink and blue sleeves today for when my printed copy arrives from Staples.
I'm partial to the Squichnape. Absolutely terrifying. I love it!
If you mix the top of the mosquito and the bottom of the shark, you get a creature called a Mork and i just think that's nifty.